Pumping Septic Tanks And More!
At Scott Bailey's Berks Septic Service we take pride in providing professional, prompt, friendly and affordable septic system services.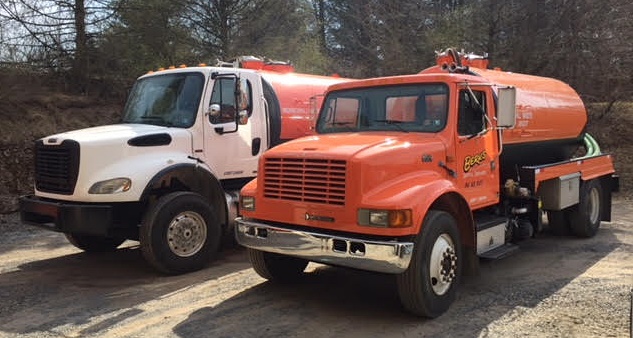 Pumping septic tanks and holding tanks is just part of what we do. In addition to our pump services, we also perform expert septic inspections, maintain and repair residential septic systems including the installations of risers, and we accurately diagnose the causes of any septic and sewage problems.
We also work closely with septic officials and sewage enforcement officers to assist homeowners in complying with all local township and Pennsylvania septic management requirements and regulations. Our clients include homeowners, real estate agents and buyers of homes throughout Berks County and parts of Lancaster, Lehigh and Schuylkill Counties.
Here A Partial List Of Towns We Serve
Alsace Township, Amity Township, Bern Township, Bernville, Birdsboro, Boyertown, Brecknock Township, Centre Township, Cumru Township, Douglassville, Exeter Township, Fleetwood, Hamburg, Heidelberg Township, Kutztown, Leesport, Lower Alsace Township, Lower Heidelberg Township, Maidencreek Township, Mohnton, Mohrsville, Morgantown, Muhlenberg Township, Oley, Ontelaunee Township, Penn Township, Perry Township, Reading, Reading 19606 Reading 19608 Reading 19610 Reading 19611 Richmond Township, Robesonia, Ruscombmanor Township, Shoemakersville, Sinking Spring, Spring Township, Strausstown, Temple, Topton
Note: If your town or community is not listed above, please call us at (610) 621-6197 and ask if we serve the area where you live. We serve all of Berks County and parts of Lancaster, Lehigh and Schuylkill Counties.
We've Got Great Coupons!
We have coupons right here on our website for septic pumping and inspections - see our Coupons page for printable coupons. We're running a special "Friends and Family" coupon offer right now: get $15 off YOUR pumping and your friend or family member also gets $15 off THEIR pumping when you both place your order on the same day. Just mention the offer when placing the order, and tell us who your friend or family member is.
We Also Honor Competitor's Coupons
Most businesses will laugh if you ask them to honor a competitor's coupons. Not us! If you have a valid, unexpired septic pumping coupon from one of our local PSMA competitors, we'll honor it! Only one coupon per pumping, and coupon must be mentioned at the time you place your order, and then coupon must be presented to us when we arrive to do your pumping job.
Septic System Services We Provide
We Do More Than Just Septic Pumping
We're qualified to service all of your septic system needs, not just the simple task of pumping your tank. Our goal is to build a strong relationship and earn your trust and confidence. We want to be your total, full service septic system maintenance provider, and we work hard to earn your future septic system needs.
Scott A. Bailey, owner and operator of Berks Septic Service and Bailey's Inspection Services, says, "We visually inspect each component of the septic system and educate our customers about their septic system, including providing maintenance recommendations, replacement alternatives and of course, the basic "do and don'ts" of septic systems.
Call Us Today To Schedule Septic Services Or Place An Order
If you have any questions or would like to schedule any of our septic services or order any of our septic products, call us today!
(610) 621-6197